3 Reasons Why Companies Lease Data Centers in Northern Virginia
---
By

Luke Smith

·

11/1/2016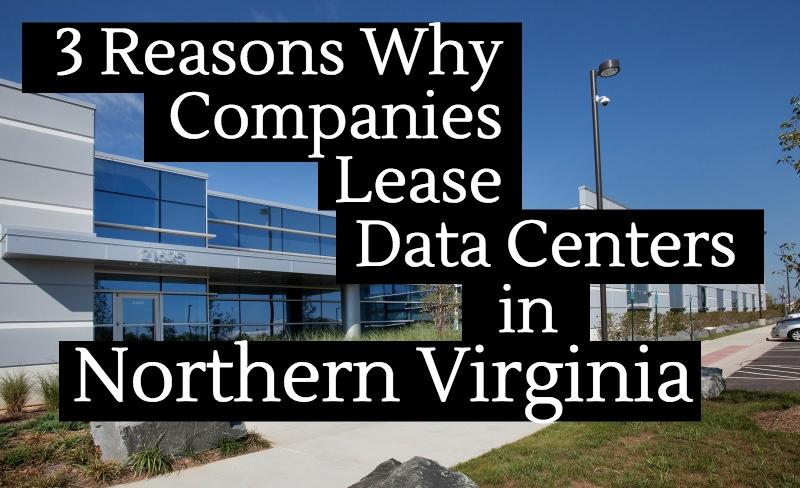 The Northern Virginia Data Center Market is the largest in the United States. Demand in this market is driven by different industry verticals, including technology, financial, insurance, and others. The recent growth Northern Virginia has been directly tied to hyper-scale cloud companies needing capacity in a quick timeframe. The demand created here has led to a 100+ MW growth of commissioned power over a twelve-month period in Northern Virginia, which is astounding in the data center industry and something never seen before.
Northern Virginia continually attracts interest from a variety of industries, and is positioned to grow in the future. Below are three reasons why companies find this area attractive and lease data centers in Northern Virginia:

I. The Market Characteristics Fit What Data Center Users Want
The infrastructure, competitive nature, location, and risk profile check the necessary boxes for data center users. Early investment by data center operators put Northern Virginia on the map from the beginning (mainly due to power and fiber infrastructure). The competitive nature of the area today directly benefits the data center user as it relates to rental rates, power cost, and data center operational efficiency. Companies wanting a reliable, East Coast data center location in a relatively low risk market find Northern Virginia to be a perfect fit.
II. Qualified Data Center Operators/New Services Offered
One of the unique attributes of this area is not only the number of data center operators, but the range of services they offer. As companies evaluate data center operators, understanding the true value of the operator is key, not only to your infrastructure, but to your business. Why? Because data center users have much higher standards for data center operators today and look for them to do more than only provide power, space and cooling. Operators are now directly helping their customers find efficiencies with network, managed services, and cloud connectivity. It's a long relationship, and wise are the companies that partner with an operator that can solve their needs for today – and the future.
III. Data Center Operators Preparing for Future Growth
It takes time to deliver data center power capacity, and the lack of availability can slow a market's growth. Fortunately, the Northern Virginia market does not have to worry. This is not a prescription of over-supply, but a note that data center operators are aware of the market demand and the pathway for growth is set. These operators are examples of data center operators making strategic acquisitions to accommodate future market demand:
CoreSite – Q4 Closing of Land Acquisition

CoreSite's Northern Virginia footprint is growing. They will complete the acquisition of Sunset Technology Park in Q4 2016, a new campus providing several strategic development options in near future. CoreSite plans to retrofit a 48k SF building into speculative data center capacity and build a 92,000 SF shell building. This approach gives them the opportunity to market to both users needing immediately available capacity, while also appealing to larger companies that find shell data centers more attractive. Construction is anticipated to begin in Q1 2017



CyrusOne – Now a Major Northern Virginia Data Center Operator

CyrusOne is actively developing a large campus in Sterling, with plans to ultimately deliver 420,000 SF. The first two facilities at their Sterling campus have been delivered and fully leased, with the third and fourth currently under construction. The new facilities will add a combined 21 MW of capacity, with an anticipated delivery between Q4 2016 - Q1 2017. A portion of the fourth building will be constructed as a powered shell, enabling a faster delivery to the market. The data center is designed for high densities, up to 1,000 watts/SF. CyrusOne also has 40 acres of vacant land in Northern Virginia, available for future development.



Digital Realty – Ashburn Campus Expansion & Pathway for Existing Growth

Digital Realty is nearing leasing completion with its Northern Virginia campus, its largest in the US. A quick history – Digital first bought three shell buildings on the campus in 2007. Strong market activity led them to expand the campus in 2009, as Digital added three additional data center facilities. The acceptance of their turn key product pushed for additional site development, made possible by a 2011 land acquisition. Since then, Digital Realty has developed an additional four buildings on the site. With the final two buildings (Building J & H) nearing leasing completion over the next few quarters, Digital is ready for future growth. In November 2015, they purchased 126-acres directly next to the campus, and another 112-acres directly adjacent in August 2016. The new land can handle up to 210 MW of commissioned power capacity



DuPont Fabros – 28 MW Under Construction and Coming Soon

DuPont Fabros was one of the early data center developers in the Northern Virginia market, and they're still going strong. Most notable about DuPont Fabros today in Northern Virginia is the amount of capacity under construction at their ACC9 facility, and the land they have for development in the future. They have bet big in Northern Virginia in the past, and it has paid off. With very little capacity available at their recently delivered ACC7 facility, their ACC9 facility is set to deliver 14 MW in Q1 2017 and an additional 14 MW following the Phase I delivery
Other data center operators are active in Northern Virginia as well, including Iron Mountain, Sabey Data Centers, COPT, Infomart Data Centers, DBT Data, H5 Data Centers, RagingWire, and Equinix.