Where Data Center Professionals Searched for Colocation in 2015
Data center users kept busy searching the market in 2015. Find out where and why they search in Primary and Secondary data center markets.
---
By

Luke Smith

·

1/5/2016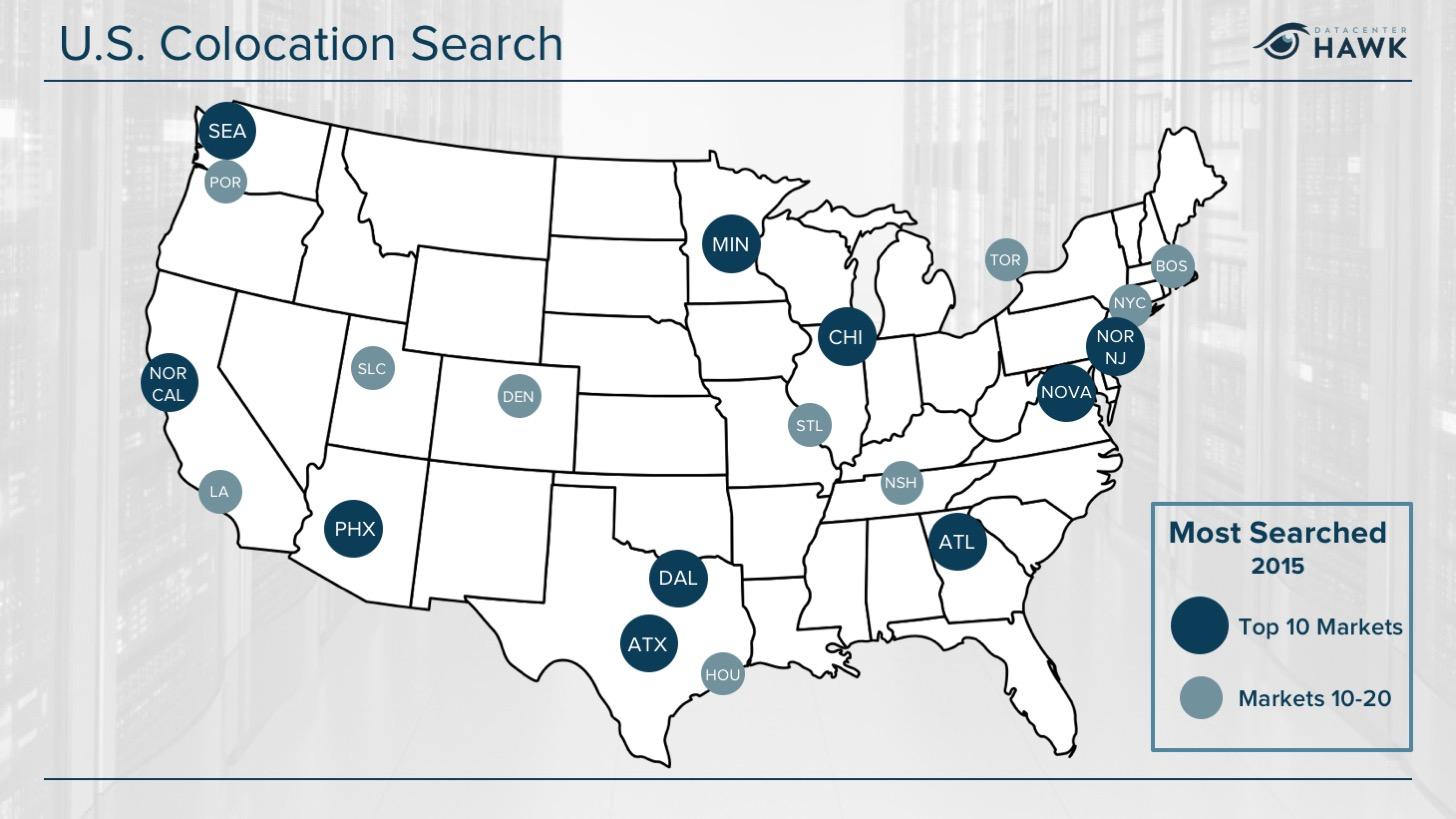 One of datacenterHawk's most-used online tools is Hawk Search. Data center professionals use this simple yet powerful way to find colocation, cloud, or land site solutions anywhere in North America, then make strategic decisions based on our real-time data.
Throughout 2015, we analyzed how data center professionals used Hawk Search on our platform to find colocation solutions throughout the United States and Canada. The map below shows the top 20 most searched colocation markets for 2015:
Several interesting trends are seen in analyzing the 2015 search data:
Primary markets capture search majority – Large metros account for most colocation search today. Pretty intuitive, but let's dive deeper:
Atlanta, Chicago, Dallas, Northern California, Northern New Jersey, Northern Virginia, Phoenix, and Seattle captured a majority of search for 2015.
Data center users tend to migrate toward larger cities for several reasons:

Competitive Colocation/Cloud Environment
Reasonable Power Cost
Robust Power and Communications Infrastructure
Proximity to Other Business Locations
Favorable Taxes/Incentives

The big markets are getting bigger. Major supply is being added toNorthern Virginia (currently 426 MW), Dallas (currently 270 MW) and several other primary markets as well. Larger providers have doubled down in key markets, including Digital Realty, DuPont Fabros, and Equinix in Northern Virginia as well as QTS and RagingWire in Dallas.
Large transactions land in Primary Markets. The majority of companies with large colocation transactions find a home in the big cities. Larger colocation transactions find value on campuses that can either quickly accommodate the power need or provide the user an option to control their own building.


Secondary markets still churning – The cities ranked 11-20 on our list received a strong amount of interest as well. A couple of quick takeaways:
Canadian markets maturing and users are noticing – Canadian colocation markets are continuing to gain traction. Here's why:
Toronto and Montreal are consistently searched on our platform as well, and it's our prediction this Northern market evaluation will continue.
Canada's recent data center activity stems from both lagging supply as well as perceived data residency concerns, where companies avoid legal liabilities related to U.S. data privacy laws by storing data in Canada.


To sign up for a trial of datacenterHawk and get more information about data center markets, providers, and industry leading tools, register at https://www.datacenterhawk.com/register.
---