1Q 2023 Data Center Market Recap
---
By

David Liggitt

·

4/27/2023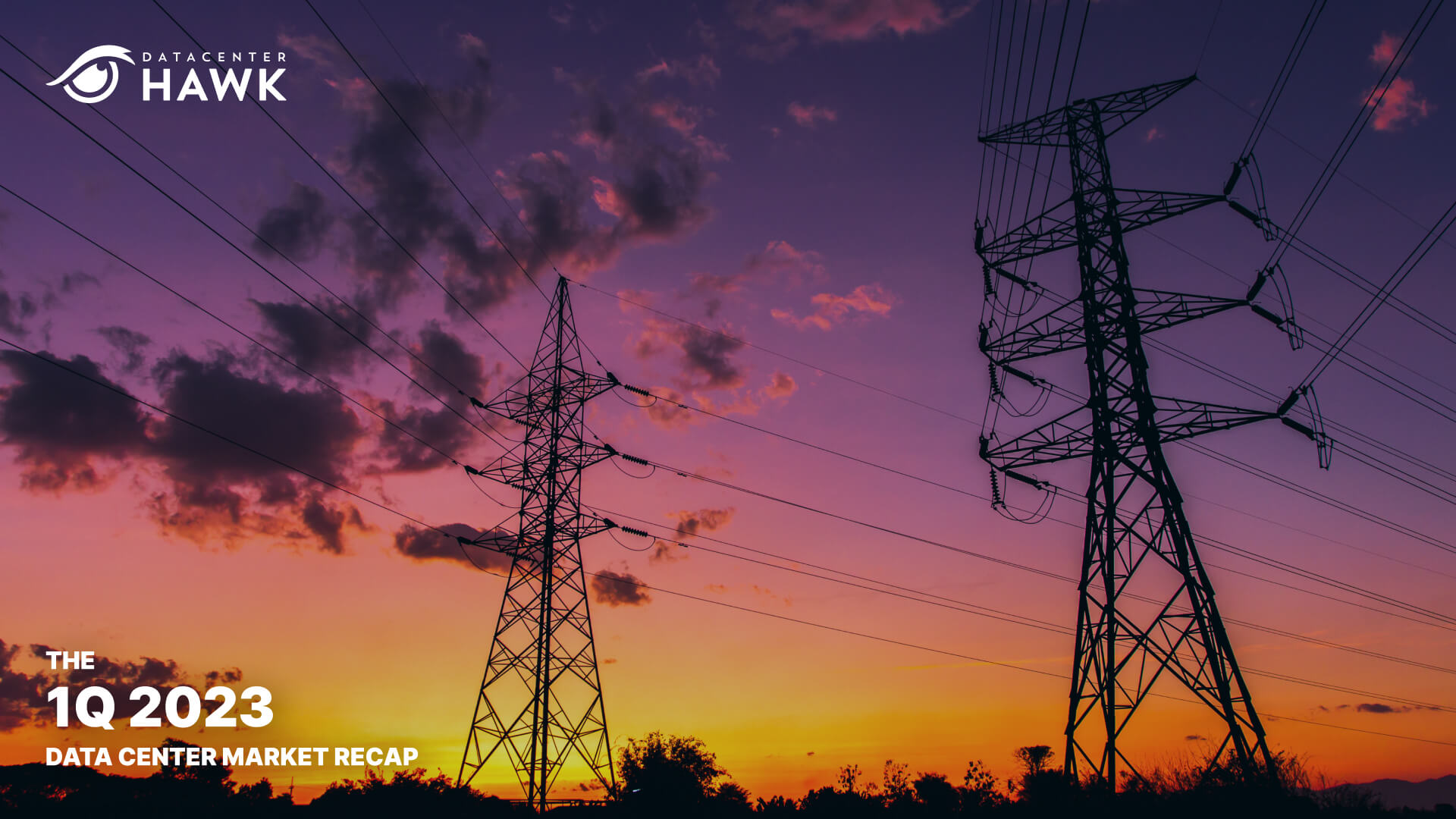 Despite facing power limitations, supply chain issues, and rising costs, there continues to be a strong demand for data center infrastructure. These market conditions have created new opportunities in emerging markets to capture demand that supply-constrained primary markets have not been able to accommodate. datacenterHawk has expanded its global coverage by providing expert analysis on the development of leading Latin American markets.
Latin American Data Center Markets

The Latin American data center industry is currently experiencing a surge in growth, largely due to strong industry tailwinds such as technology adoption and data center investment. Prior to the pandemic, international firms in Dallas, Miami, and Los Angeles primarily serviced the region's data center needs since local enterprises had not yet outsourced their IT or undergone digital transformation.
However, post-pandemic, Latin America is expected to see the highest global growth in technology adoption. This is expected to drive a regional 6X MW demand for colocation in key Latin American markets such as Mexico, Brazil, Chile, and Colombia over the next decade.
Notable Trends & Markets
Ample growth tied to hyperscale companies establishing a foothold in LATAM
Notably, the top hyperscale users have announced and deployed their infrastructure in the region. It is estimated that the top three will each deploy an additional 500 MW by 2031 in key markets, accounting for close to 70% of the newly deployed colocation capacity in the region.
As demand from hyperscale users grows, data center operators are seeking land, energy, and other sources to establish themselves first in these emerging markets. This rapid increase in demand in markets like Mexico and Colombia has created a backlog of demand for wholesale and hyperscale facilities, creating a construction boom and a run for energy capacity. For instance, close to 400 MW in Queretaro and 127 MW of capacity in Bogota have been announced by some of the largest data center providers.
Development and investment heavily influenced by political factors
Political and economic pressures have also surfaced in the region. Despite political swings to the left by newly elected presidents in Chile, Brazil, Colombia, and Mexico, growth and investments impacting the industry have not slowed down. Many of these leaders realize that this digital infrastructure is a key element for their growth. For example, Colombia's newly elected President Gustavo Petro made it part of his campaign to remove some tax incentives offered to the 120 Zona Francas or duty-free zones where many data centers reside. Thus far, there has been little action on this front.
Looking Forward
Looking ahead, the Latin American market is expected to catch up to the data center growth seen in the rest of the world. However, the region is likely to experience a larger percentage growth curve until sufficient digital infrastructure is in place to support the demand.
Despite some governments in the region leaning towards the left in recent elections, there is a strong business sense not to implement policies that could potentially harm investments. This is especially true for investments that support the transformation of the region's economy into a digital one.
Moreover, the trend of "nearshoring" in Mexico has led to a significant increase in foreign direct investment (FDI) in the country. This has, in turn, created a greater demand for data center services in Mexico and its neighboring regions.
North American Data Center Markets
While still active, demand in North America cooled after multiple record-setting periods of absorption between 2020-2022. Absorption remained high, however, recording the 6th largest quarter ever. Rental rates continue to rise, though at a slower rate compared to the previous year. Rising rates, lengthening construction timelines, and diminished cloud spending have contributed to the overall subdued leasing activity. While these industry conditions have slowed activity in some markets, it has created ample new opportunity in several emerging markets.
Notable Trends
Market conditions leading to a pause in enterprise leasing
Due to high interest rates and cutbacks in spending, many enterprise users are currently favoring a conservative strategy when it comes to their IT infrastructure. In anticipation of less volatile pricing in the near future, companies are renewing their leases at shorter terms, agreeing to a higher rental rate in the immediate in order to hopefully renew again at a lower rate. Others are renewing, but opting not to expand their footprint. While this trend is broad, it is also only a delay in demand that will be filled in the future.
Rapid growth in emerging markets
Demand for capacity in major data center markets continues to remain strong. However, due to a shortage of power and land, developers are now seeking out new markets that offer similar benefits at a lower cost and with more power available. As a result, some companies that were considering Northern Virginia for their requirements are now opting for alternative locations such as Atlanta or Columbus. Similarly, requirements in California are shifting towards cities like Las Vegas, Salt Lake City, or Denver.
Year over year, these markets' commissioned power increased by a combined 160 MW. However, planned power has grown by over 610 MW, indicating a significant increase in demand and growth potential for these emerging markets.
Smaller but broader demand
The bulk of absorption in North America is often concentrated in 2-3 primary markets. In recent quarters, however, demand has spread out with multiple markets representing a substantial portion of overall absorption. Although absorption in North America in 1Q 2023 (436 MW) was the lowest it's been since 3Q 2021 (158 MW), it was much broader.
Moderate North American Absorption in 1Q 2023
Looking Forward

High demand and low inventory contributed to the lowest vacancy rate of the top 10 North American markets, at 2.88%. Despite a moderation in hyperscale leasing, due to long delivery timelines and power procurement delays, demand is still outpacing providers' ability to deliver new capacity. As a result, it's unlikely vacancy rates will rise. Conversely, the lack of inventory will continue to restrict competition and keep rental rates high. As already witnessed, this is creating new opportunities for development in new markets where costs maybe be favorable.
European Data Center Markets
Demand for data center capacity in Europe remains strong. Power supply is a pervasive issue, limiting leasing and potential development in areas like Amsterdam, Dublin, and London. As a result, absorption was the lowest it's been since the end of 2021, though still higher than all quarters prior to 4Q 2021. In Frankfurt and Paris development has increased, with multiple new large-scale campuses planned or in development. Users are also looking toward secondary markets, resulting in many new projects in Madrid, Milan, and the Nordics.
1Q 2023 Year Over Year Planned Power Growth in Major European Markets
Notable Trends & Markets

Data center operations and strategies impacted by the desire for data sovereignty
Many European countries are adjusting their policies concerning data center practices in an effort to increase data sovereignty, privacy, and security. For example, the UK published a report indicating its need to diversify its use of cloud computing from a small number of international providers to a group of domestic providers. Financial groups in these countries are also in favor of diversifying and nationalizing their cloud footprints.
Development occurring where power is available
Although locality is an important factor in a company's data center site selection process, the availability of power is quickly taking the highest priority. While demand remains strong for markets like Amsterdam, Dublin, or London, the lack of power in these markets is resulting in many requirements looking elsewhere. As a result, Paris, Madrid, Milan, and the Nordics have grown substantially within the last year as they are markets where power is more readily available. In some of these emerging markets, demand grew at a rapid enough pace to create a lack of power and increase development costs on par with primary markets.
Looking Forward
Providers that can procure power and have a clear path to develop new space will have an advantage in many of these constrained markets. While ample absorption occurs from users requiring capacity in Frankfurt, Paris, and emerging markets, a major portion also comes from users that needed to place infrastructure in London, Amsterdam, or Dublin and had no option to do so. This will likely result in increased land-banking in markets where power is currently available, to ensure providers have ample supply to meet demand now and long into the future.
Asia-Pacific Data Center Markets
Delivering new capacity to most APAC markets is a lengthy, and often costly, process primarily due to a lack of land and infrastructure in many major markets to support additional growth. This can make development decisions complicated for Western providers, as successful absorption often quickly justifies the cost of development, though domestic providers often have an advantage when securing demand from APAC companies. It can also be complicated for Western providers to do business with Western companies trying to do business in APAC, as data sovereignty laws can restrict where data is processed and who it is processed with.
Notable Trends & Markets
Geography impacting data center development strategies and limiting growth speed
APAC's geography presents a unique challenge for data center development. The region is vast and much of the geography is separated by the Pacific Ocean, with different countries and regions having their own distinct climates, infrastructure systems, power grids, and other factors that make it challenging to develop data centers in an efficient manner. Additionally, the remote locations of many Asian countries can present logistical challenges when trying to deploy large-scale IT projects
New developments planned in constrained markets due to successful funding
Data centers in Singapore and Hong Kong are undergoing major developments as the demand for cloud services rapidly increases, though high demand has resulted in limited options for future development. Multiple providers and development companies native to the markets, however, secured additional capacity in early 2023 that would enable large-scale development and add necessary capacity. Both markets' economies and connectivity create ample demand for data center capacity.
Commissioned Power Growth Year Over Year by Region
Looking Forward

Although development slowed in recent quarters, it will likely increase toward the latter half of 2023 as new funding and projects begin moving forward. This will help to alleviate the region's low vacancy rate and invigorate future leasing. Opportunity is also available for Western and APAC providers in the variety of new and emerging markets forming throughout the region.